New Features in BAHN since 1998 (except vehicles)
BAHN 3.58 (12/1998)

BAHN 3.59 (12/1999)

BAHN 3.70 (12/2000)

BAHN 3.80 (4/2002)

BAHN 3.81 (8/2003)

BAHN 3.83 (2/2005) / 3.83r2 (5/2006)

BAHN 3.84 (7/2007) / 3.84r2 (12/2007)

BAHN 3.84r3 (5/2008)

BAHN 3.85 (11/2008)

BAHN 3.85r2 (6/2009)

BAHN 3.85r3 (2/2010)

BAHN 3.86 (5/2011)

BAHN 3.86r2 (2/2012)

BAHN 3.86r3 (8/2012)

BAHN 3.87 (3/2013)

BAHN 3.87r2 (11/2013)

BAHN 3.88 (5/2014)

BAHN 3.88r2 (12/2014)

BAHN 3.88r3 (12/2015)

BAHN 3.88r4 (10/2016)

BAHN 3.89r1 (4/2019)

BAHN 3.89r2 (11/2019)
Important news BAHN 3.58
Use of "extended memory" (network dimensions 8192x8192 elements)
Switches into 3 directions 45 degrees
New cars, new color variants (see list)
Zoom-feature to Zoom-In and Zoom-Out the screen
Shunting possibilities (disconnection and coupling of trains)
Depots of 2 types and using all 8 directions
Changing more data at the route changing points (train type, stope time interval), so it becomes possible to run faster at night
Some gadgets (e.g. smoking steam-engines)
VESA-graphics modes 800x600 and 1024x768 (doesn't work on all computers, see FAQ)
Example for zoom factor 2, "outside turning" switch and Magdeburg LRT car:
Example new/changed cars and horizontal depot:
(at the top the type used as KSW in BAHN 3.40, now as "car of 1920ies to 50ies",
below 2 versions of the new designed KSW, at the bottom the type from Erfurt (Thuringia) built in 1938-1943, at last used on the Lockwitztal and Kirnitzschtal tramways near Dresden (Saxony))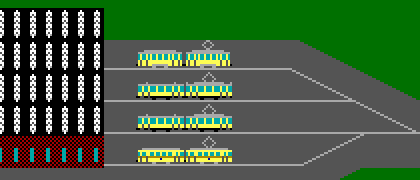 A demonstration of shunting/switching:
"transparent" station hall: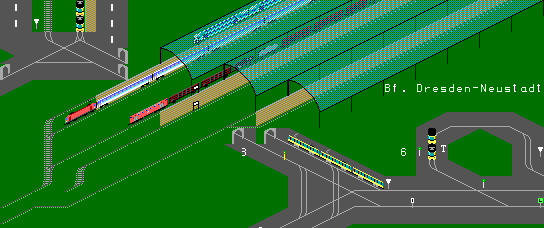 Important news BAHN 3.59
BAHN 3.59 uses 256-color-modes. The VESA support always is needed. These modes are available on more graphics cards than the 16-color-modes.
Some new colors defined. Many cars got new colors
new vehicles, new color versions (see list)
For windows there are few colors only, but these light tonight (day-night-switching, see color menu).
New turnout types "Random turnout", "Train type dependent", "Signal dependent"
Timing points can handle late trains in a better way
Grid lines: max. distance 512 elements (instead 99), colors can be selected (color menu)
Train type divided into base and current train type (similar to base and current route).
Texts can be located at any position (instead of empty symbols only). Text memory new organized, more text is possible (if enough DOS memory available)
Pre-selection of car fleets contains a search function for texts in the car library (eg types, manufacturerers, owners, cities)
More memory sections moved into "extended memory". So in each case 5000 stops and speed restrictions should be available.
Speed-restrictions depend on the train's current type.
"Lower quadrant" semaphore signals British/Australian design for left-handed traffic
Shift and Copy of network parts (rectangular area)
Example day-night-switching and texts on tracks: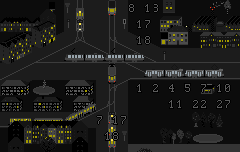 Important news BAHN 3.70
MS Windows required (3.1 or higher)
Some problems of the DOS versions solved
(memory management, VESA graphics, mouse control)
Exchanging text data via Window's clipboard
Output of statistic data and via clipboard uses ANSI character code (Windows instead of DOS)
No more special map mode (instead zoom scale 1:32 to 1:512 for each edit window)
Mode menu replaced by Window menu, Screen saver mode omitted
Some dialog boxes re-designed
Less colors configurable
File format of layout files did not change: "nt3" files of BAHN 3.59 can be loaded and saved
Some cars redesigned resp. added, see list
Important news BAHN 3.80
MS Windows 32Bit required (Win95 or higher)
Crossing switches (slip points) single+double
Redesign of tracks: horizontal tracks centered, tracks on gravel, grassy lines
Lines on roads (bus) and water (ships)
New versions of stops and timing points (red+blue)
Departures from timing points and signal switch times in seconds
User-defined graphics: 10 files scenic, 8 files vehicles per layout
New and revised buildings, new vehicles (see list)
Platforms in curves
Extent of layout 16384x16384 elements
Copy of layout parts via clipboard (Copy/Cut/Paste/Delete), also between different layouts
Moving of trains in 1/4 smaller steps
Acceleration/Braking (braking at speed limits only, no braking to 0 when stopping)
Some memory sections enlarged (depots, routes, turnouts)
Longer trains (up to 100 cars resp. track symbols), train numbers 1..999 per route
Protocolling (Logging/traffic counting) with log points and dispatcher messages
Foreign language configuration (variable fonts / text resources in text files "*.lng" instead of binary "*.rtx")
(if you want to translate some into a foreign language; please ask me before, to prevent that some people do the same job)
Import of layouts as text files (".bna" files)
Bumpers/track endings with reversal time
Braking factor for sim speeds 2..19 (for fast computers)
Stops with settings: train types (individually), list of routes, double stop, waiting time list, trains going off-/on duty, new speed limit
Exchanging driving way sysmbols in whole layout / in marked area
State of train follwing (watching) shown in window title
Up to 1000 backup files .nt2 per layout, password protection for layout files
Extension of route change points into data changing points
Timing points: new speed limit, up to 3 reset times
Alternating turnouts: up to 3 reset times
Grade crossings ("St.Andrews cross" signals) also for left-handed traffic and with barriers

Important news BAHN 3.81
Marked area in the layout can be changed by mouse
Right mouse button in the layout opens local menu
Scrolling by right mouse button braked (variable regulation)
More precise calculation of train speed, acceleration 0.05 to 3.00m/s²
Vehicle list shows all trains using the selected car
Train table with buttons "Look for" and "Follow"
Up to 40 user-defined vehicle sets per layout
Up to 40 ".uzg" files per layout, 1440 user-defined scenic symbols
Hot-key "U" leads to last recently used block of user-defined symbols
Route managing extended: name up to 8 characters, copying when creating a new route, at max. 2000 routes
Copy/Paste via clipboard extended by routes and depot data
Signals and contacts with route and depot list, signal systems without signals allowed now
Signal elements with turning off effect ("-") in reverse driving direction and with turning-back time
Off-contacts for 2 directions omitted, option "OFF in reverse direction" also available for contacts instead
Switch contacts and signals with platform
Grade crossing signals also on own trackbed
New signal constructions (4 point tram signal, higher light signals, for right- and left-handed traffic)
Data change points: name up to 16 chars, change of max speed and shunting length
Dispatcher messages: at max 200, display of day (relative) and current route
More exact report about late departures
Logging extended (eg display of day, scheduled time at timing points and in case of lateness)
Log-points with direction[s] of effect
Warnings when deleting objects and use of mysterious filenames can be turned off
Auto stop time can count days
Maximum number of speed restrictions, stopping pts, shunting pts 40,000 each
Maximum number turnouts 60,000, timing pts 20,000, data change pts 10,000, depots 4,000
Depot names up to 8 chars, timing pt names up to 16 chars
Clock window, "top-most", for simulation time
Display of train data (in normal view) extended
Shunting pts with variable direction of effect
Storing of up to 32 cursor positions with comment (remarks) and calling time
Versions of some graphic symbols re-organized and extended (stops, timing points)
Speed restrictions with more versions and valid value = 0 for terminating, extra terminate signs omitted
Data change pts, shunting pts and some turnouts with additional versions (with platform)
Hot-key >F12< / >Ctrl+F12< for exchange driving way / mirroring scenic symbol at cursor position
Bumpers with platform[s], all bumpers / line ends are registered
Handling of platforms on simple driving way extended
Double platform and station halls (vertical) also on road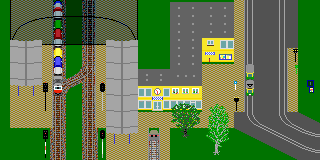 Important news BAHN 3.83
Grade crossings (level crossings) blinking, also reverse
New grade crossing signals (2 alternating lights, yellow-red-light), more new signals
In abstract view, signal colors are configurable (by default red/green)
New driving way "Path" for road vehicles
Rough statistics about train's times of service and summary
Local info texts max. length 10kB
Train texts in the layout (route / number) also on transparent background
Use of 24bpp color depth, color palette no more supported
Variable background color also in abstract and map modes, no more color palette limitations
Slip turnouts (English points) also with platform
Timing points + stops new version: platform + "T"/"H" only
Searching driving way symbols: can be restricted to current graphics version
Status "Going off-duty" can be deleted manually when editing the train
Data change points can erase data for going on-/off duty (by D=X resp. E=X)
New zoom factor (enlarged scale) 6:1
Up to 50 ".uzg" files per layout, 1800 user-defined scenic symbols
New data format for vehicles (existing user-defined cars can still be used)
More variable vehicle length and width, more colors, 16 cars per vehicle fleet, no more maximum length summary
Vertical car graphics overlapping, separation roof/front/rear parts
Changing lights added for more than 1400 vehicles
Light changing separated from pantograph change, i.e. also "backwards" running shows correct light (eg el.locos)
Some cars redesigned resp. added, see list
Up to 100 user-defined vehicle files per layout (=16,000 vehicles)
Optional extra graphics in display scale 2:1 and higher ("Zoom2")
Actually available as Zoom2 gfx: driving ways, some buildings + signals, about 1600 vehicles (BAHN 3.83r2: more than 2500)
Zoom2 graphics with more colors, integrated Zoom2 vehicle editor
Integrated Zoom2 editor (vehicles only)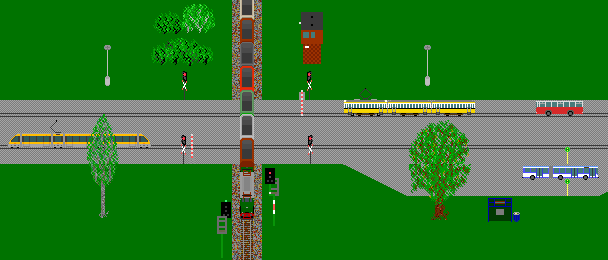 Important news BAHN 3.84
Text data coded as Unicode (16bit/character), however compatible with Windows98 upwards
Names of objects can contain lowercase letters and special characters, e.g. umlauts or accented like ä or á
Layout size 32768x32768 elements
Layout data extended by sub-surface levels -1 to -4, new technique for tunnel lines
Stretching (enlarging) of layout (parts)
Hierarchical depot structure "Name:Track", track numbers 1..99 per depot
Depots have long and short name (16 characters / 4 chars)
Maximum speed vmax=600km/h
3 train categories (passenger, freight, special) and more train types
Train length at max. 200 elements/vehicles
Stopping points for 3 trains same time, also at timing points served as stops
Double stop is served by 2nd train also, when 1st didn't leave completely but is blocked
Texts in the layout may get individual colors if not directly neighbouring side-to-side
Combined turnouts, crossings of 2 curve tracks
More versions for bumpers / end of line, signals, switch contacts, shunting points, stops, timing points
Shunting points, speed restrictions, signals and stops may be set invisible individually each
Time data can contain days of week (timing points, trains, signal systems, junction turnouts etc.)
Go on- and off-duty as non-revenue trip can be defined separately
Signal elements and signal systems divided: Each element and each system have a unique name. Elements can switch multiple installations and can depend on multiple installations
Distant-signals for all available stop-signal types
Combined stop and distant signals for all signal types except tram signals
Permissive passing
Speed restrictions may work dependent on route code / train number
Infotext of 10,000 characters for each route code
Layout can get a background picture (bitmap)
Display of train data (route/train number) also in schematic view 1:2 and 1:4 and similar display of object data (number/name) from 1:4 upwards
Help system changed to ".chm" (for W*ndows V*sta)
Up to 100 files with user-defined scenic symbols per layout (3600 symbols)
Some cars redesigned resp. added, see list
Extensions BAHN 3.84r3
Display of train data (route/train number) and object texts in the layout accelerated, also in view scale 1:8 and 1:16 and including log point names
Background picture supports color-reduced bitmaps, resulting in less memory needed
Complex Edit functions (Copy/Paste/Clear/Shift...) also over multiple neighbouring levels together
Automated saving of the current layout file
Optimizations speeding up the simulation, at constructing/deleting of signal system elements, in complex edit operations (Copy/Shift)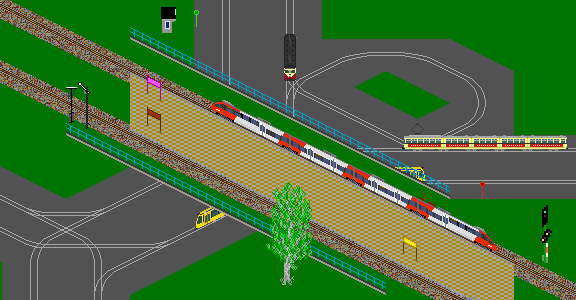 Important news BAHN 3.85
Simulation runs in 50% smaller steps
New versions of signals: traffic lights with yellow immediate phase, CH System L
User-defined signals: each 20 of stop, distant and combined signals for on-shore ways
Connection of depot and signal system extended
New, more flexible data format for scenery incl. user-defined elements (more colors, larger width, higher), more objects/buildings with Zoom2 graphics
More user-defined scenic elements per layout (110 sets of up to at max. 90 elements each)
Extra graphics for quadruple details (Zoom4)
Simple integrated editor for scenery and user-defined elements (Zoom1, 2 and 4)
Configurable animations, also for user-defined elements
Additional files can be attached to a layout file
El.locos and EMU can change the pantograph depending on direction of travel, even if they have different side views
Sound more flexible and configurable, for trains and animations
Extensions BAHN 3.85r2
Use of Zoom4 graphics also in view scale 6:1
Files of user-defined vehicles can be exchanged by others, even when their vehicles are currently in use in the layout.
In depot lists, track numbers can be combined, e.g. "Depot_A:1-3" instead of "Depot_A:1, Depot_A:2, Depot_A:3"
Extensions BAHN 3.85r3
Replacing of elements (Search and Replace)
Open vehicle doors when serving stops and timing points
Graphics elements with clock
Important news BAHN 3.86
Route lists at data change points, turnouts, signals etc. extended by conditions train type and some train properties
Switching function and switching list at signal system elements extended
Connection of stations/stops and timing points with a signal
Timing points with possibility to reverse and more flexible handling of lateness
Logging extended e.g. by train type and current speed
Graphics of driving ways are editable by integr. editor
Zoom4 also for ways possible and partially implemented
Redesign of water way elements and marking points Zoom2 water/road, more Zoom2 graphics
User-defined driving way elements
Optimization while loading large layouts with many objects, in the memory management and handling of the clipboard
Trains can be deleted also outside of depots and on all routes the same time
Copy/Paste of layout sections also for trains (in depots)
Max. train number 99999 instead 999, max. length of route names 12 instead 8 characters
More flexible assignment of train numbers at data change point and when dividing
Unified names for graphics single files (user-defined elements)
More than 10,000 standard vehicles, for more than 3000 vehicles opening doors added
Extensions BAHN 3.86r2
Hot-Keys (abbreviation keys / shortcuts):

Some more are configurable (selection of graphics elements)
For each configurable action there can be assigned 2 different hot-keys
Combinations with Shift key are supported better, e.g. "#"=Shift+3 (English keyboard layout)

When separating a train that owns an information text: this text is copied to both new trains
When inserting/deleting a tunnel entry: automated adding/erasing of suitable ramps works also for user-defined driving ways, as far as possible
In schematic display: the foreground colors (lines) for user-defined way are configurable
For more than 1500 vehicles for passenger service: opening doors added (in result more than 4500)
Display of opening vehicle doors can be turned off
Internal graphics editor: Paste from clipboard optionally without transparent pixels (Merge function)
Extensions BAHN 3.86r3
Some more hot-Keys (abbreviation keys / shortcuts) are configurable (train following, setting points of marked area)
For many vehicles for passenger service: opening doors added (in result more than 5000)
Max. count of speed limit signs per layout 90,000 (instead of 40,000)
Max. count of stopping points per layout 60,000 (instead of 40,000)
Max. count of route codes per layout 5,000 (instead of 4,000)
While editing a train its length and number of vehicles are displayed
Important news BAHN 3.87
Extent of layout at max. 65536×65536 elements
View scale 1:4096 and 1:8192
At timing point and data change point the lights may turned off
At timing point and stopping point the doors can stay closed
In route lists there are more conditions available: random, train length, count of vehicles, motorized on train's head
Signal elements switch optionally on train's tail
Max. length of signal switching lists and switching functions enlarged
Simplified mode to create signal systems
Log points can get a route list
Display of object texts extended, among them turnout type, stopping points, speed restriction signs, shunting points, sound points
Scenery elements can get higher (also user-defined) ones
Train table and function to go off-duty allow more flexible input of routes using placeholders
Texts in the layout can get a rectangular frame in an individual color and allow sequences of empty characters if these have assigned an extra color for background or frame
More than 12,000 standard vehicles, more than 6000 vehicles with opening doors
Extensions BAHN 3.87r2
Depot table optionally with or without single tracks
Export function to create a user-defined vehicle as copy of any other
For many vehicles for passenger service: opening doors added (in result more than 6800)
Important news BAHN 3.88
Itineraries as new kind of signal systems, similar to some railways:

Trains send requests, get a secured way section and release it after they have passed it (inclusive partial release at turnouts)
New turnout type "itinerary turnout"
More designs of signal switch contacts
Request of an itinerary before departure from a timing point

Destinations:

Destinations can be defined as text with nearly no restrictions, also using empty spaces
Each train can get assigned a destination
Assignment can be done manually, at data change point and on going off-duty
Destination can be used as condition in route lists
Destinations can be displayed as train text in the layout

Texts in the layout:

Properties (color, border) are managed via text formats
Text search can be restricted to a certain text format

Data change points can link to another data change point
At data change points, train numbers can be altered relatively (+/-value)
In route lists more conditions added about train properties, numbers and destinations
Depots have a standard track
Speed limits and shunting points effect on train's tail optionally
When dividing a train at a shunting point, the position to divide can be given as interval
Length of names extended for some objects
Up to 400 cursor positions can be stored
Info texts (locally in the layout and for single objects) allow up to 20,000 characters
More than 12,500 standard vehicles, more than 7000 vehicles with opening doors
Extensions BAHN 3.88r2
Per layout up to 200,000 stopping points and 524,287 turnouts
Re-sorting of routes and trains accelerated in layouts with many trains
Itinerary crossings
Display route codes and configurable colors for these
Request contacts to request multiple different itineraries
Train table with more filters, e.g. train numbers
Route lists / data change points extended:

assignment of relative train numbers up to +-99,900
route change to same route allowed (useful in combination with other assignments)
signal switching function as condition (at branching turnout, shunting point, data change point)
Extensions BAHN 3.88r3
At depots the trains can be displayed sorted by on-duty time optionally
You can turn off to insert elements by mouse
On inserting functional elements, the direction of effect can be set
Extensions BAHN 3.88r4
The display of invisible signals can be suppressed in the list of signal elements and when to display object names in the layout
Alle standard scenery objects have Zoom2 graphics now
Important news BAHN 3.89
Depots:

Extra destination for trains going off-duty as non-revenue trip
At depot, the table of trains can be sorted also by times to go off-service
In the menu functions to go on/off service you can give a start resp. destination depot
The destination depot (track) can be used as condition in route lists

Stopping Points / Timing Points:

Longer delay times up to 7200s (=120min=2h)
List of waiting times can contain also a reference to the train's stop time interval
Messages about fails and lateness can be suppressed on low lateness
All designs for ways on land also with 2 platforms, more signs

Signal Systems / Itineraries:

Delay to turn on an itinerary at max. 5min instead 2min
Itineraries can be requested also at stopping points and shunting points
An itinerary can have a direction marker (1 character) that is shown at the start signal when object texts in the layout are displayed
Distant signals (also at combined signals) can have a switching function instead to refer to a single stop signal only
Request contacts with 3 additional data sets
Switching contacts can be set invisible individually (like signals)
Signals (except grade crossings) and switching contacts can have platforms on both sides

Lateness:

Can be altered manually
Can be checked as condition in route lists
Can be changed/cleared at data change points, also relatively
Is shown as train text in the layout
Can be used to choice between recommended speed or vmax at speed limits

Via Destinations:

Each train can get assigned up to 3 vias
Working similar to destinations, any destination can be used as via
Can be assigned/cleared manually and at data change points
Can be checked as condition in route lists
Are shown on display of trains texts in the layout like the train's destination

Train Names:

Any train can get a name
This is non exclusive, i.e. multiple trains can share the same name
Can be assigned/cleared manually and at data change points
Can be checked as condition in route lists
Name is optionally shown on display of trains texts in the layout

Compound Trains (Train Formations):

Multiple trains can be coupled in a way that they store their own data.
The resulting compound train can be separated later, so that the trains will continue to travel with their individual data after.

Route Lists (at junction turnouts, data change points etc.):

The base route can be checked as condition
The train properties conditions became extended by 1st car is uni-/bidirectional, running forward/backward and combination of properties by either OR or AND operation
New conditions driving way and train count (for compound trains)
More new conditions and assignments, e.g. train name, via, lateness

Texts / Text Formats:

Display of text formats can be turned off individually
Visibility of a text can be controled by a switching function

Maximum text length enlarged e.g. for title, author, general info, itinerary turnouts
Right click to an element in the layout (context menu) allows to select a block of elements that contains this element
Selection of user-defined scenery and driving way with check about use in the layout and possibility to resort
For some driving way elements, object texts in the layout can display the direction of effect as arrow
Background bitmap supports more sub formats of BMP file format, further TGA and JPG
New Graphics Elements:

Residential houses (single, corners)
Shelters, signal boxes, water towers, office buildings
Clocks analoguous and digital
Lamps, platform parts (corners), fountains, brook
More designs of speed limit signs, stopping points, timing points
Stopping points, timing points, many signal elements also with platforms on both sides

Vehicle sets of standard vehicles can contain up to 32 cars.
More than 14,000 standard vehicles, more than 8000 vehicles with opening doors
Extensions BAHN 3.89r2
Signal switch contacts can be set to invisible alltogether again
Table of trains displays lateness (in full minutes)
Train name can be altered at shunting points
Color of user-defined scenic elements can be assigned per file in schematic view and in map mode
Window of internal graphics editor can be enlarged optionally
---
To the top of this page


To the start page


Registration / Conditions of use


BAHN - New cars